Description
The Candlestick Course ebook: Steve Nison Books
Expert instruction on the practical applications of candlestick charting Candlestick charting is more popular than ever before, with a legion of new traders and investors being introduced to the concept by some of today's hottest investment gurus.
Having introduced the candlestick technique to the West through two of his bestselling books, Steve Nison is regarded as a luminary in the field of candlestick charting.
In his new venture, The Candlestick Course, Nison explains patterns of varying complexity and tests the reader's knowledge with quizzes, Q&As, and intensive examples.
In accessible and easy-to-understand language, this book offers expert instruction on the practical applications of candlestick charting to give every level of investor a complete understanding of this proven, profitable, and time-tested investing technique.
Straightforward answers quickly clarify this easy-to-use charting method. This guide will allow readers to recognize and implement various candlestick patterns and lines in today's real-world trading environment–giving them a noticeable edge in their trading activities
Wiley; April 2004
ISBN: 9780471464884
Edition: 1
Title: The Candlestick Course
Series: A Marketplace Book
Author: Steve Nison
Imprint: Wiley
Language: English
Read online
If you're using a PC or Mac you can read this ebook online in a web browser, without downloading anything or installing software.
Download file formats
This ebook is available in:
Digital Rights Management (DRM)
The publisher has supplied this book in encrypted form, which means that you need to install free software in order to unlock and read it.
Required software
To read this ebook on a mobile device (phone or tablet) you'll need to install one of these free apps:
To download and read this eBook on a PC or Mac:
Adobe Digital Editions (This is a free app specially developed for eBooks. It's not the same as Adobe Reader, which you probably already have on your computer.)
Limits on printing and copying
The publisher has set limits on how much of this ebook you may print or copy. See details.
Editorial Reviews
From the Inside Flap
Steve Nison revolutionised the world of technical analysis when his two best selling books introduced Japanese candlestick charting techniques to the western world. Candles, he discovered, can signal shifts in trends and price patterns with amazing accuracy, and these storyteller charts also contain powerful applications for today's volatile short-term markets.
In The Candlestick Course, Nison breaks new ground once again. From the basics through the more complex stages of pattern recognition, each chapter includes specific learning objectives, key terms, clear-cut instruction, and practical applications. Plus, each end-of-chapter quiz allows readers to perfect their charting abilities before moving on. This book is the ideal training tool for newcomers, and perfect for veterans looking to refine and hone their skills.
Focused on the needs of today's active traders and investors, Nison:
Provides a solid foundation to candlestick charts-reinforcing key skills as you go
Reveals how to pinpoint critical market opportunities as they arise, by recognizing key candle signals
Tests your ability to accurately analyze and interpret candle charts
Demonstrates how candlestick concepts can trigger potent decision-support tools that can confirm-or enhance-buy/sell signals
Includes a valuable progressive charting case study
Ties all the aspects of candlesticks together through interactive examples and visual tests
Whether viewed as a supplement to Steve Nison's other books and courses, or as your introduction to candlestick charting, this the candlestick course book will familiarize you with the intriguing world of  The Morning Star, The Hammer, The Dark Cloud Cover-and the many other powerful and precise patterns Nison shares with fellow traders and investors.
Not just a one-time read, The Candlestick Course can be used as a valuable reference source, and quick refresher course, time and again.
The Candlestick Course (A Marketplace Book Book 149) - Traderma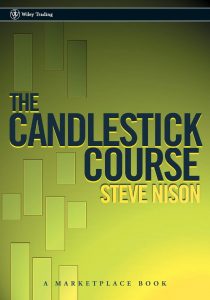 Steve Nison, the author of Japanese Candlestick Charting Techniques and Beyond Candlesticks, is acknowledged as the leading authority on the subject of candlestick charts.
URL: https://www.tkqlhce.com/click-100451247-13660345?url=https3DUS&cjsku=183812
Author: Steve Nison
About The Author
STEVE NISON, CMT, was the very first to reveal the startling power of candlestick charts to the Western Hemisphere. He is acknowledged as the leading authority on the subject. Steve is the author of the "bibles" of candle charting analysis, Japanese Candlestick Charting Techniques, The Candlestick Course  and Beyond Candlesticks.
His work has been highlighted in The Wall Street Journal, Barron's, Worth magazine, Institutional Investor, and other publications around the world. Mr. Nison has appeared numerous times on CNBC, and his segment on FNN (the precursor to CNBC) brought in the most viewers that network ever had. He has taught thousands of traders and investors around the world.
Mr. Nison holds an MBA in finance and investments and was a senior technical analyst at Merrill Lynch and a senior vice president at Daiwa Securities. He was among the first to receive the Chartered Market Technician (CMT) designation from the Market Technicians Association (MTA).
Mr. Nison is founder and President of CANDLECHARTS.COM which provides educational products and advisory services.